Designer Call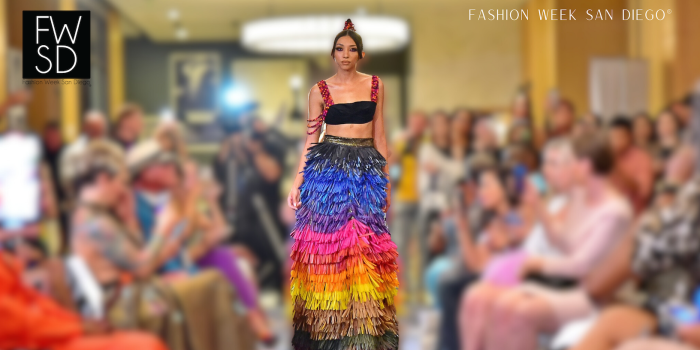 FWSD is more than a moment on a traditional and world-famous runway- it's a whole year of opportunities & exposure.
If you are interested in becoming one of FWSD's Designers, please fill out the online application! We ask that you get your applications in by JANUARY 31ST of the year you want to show. It gives us time to review and set up meetings with you. Not all who apply will be accepted. FWSD takes pride in only putting the best, most passionate career-driven designers & brands on the runway. I'm sure you have many questions for us and we also have many for you. FWSD truly cares about your brand and success, so it's important we have the time to get to know you.
In Spring/ Summer, we hold our 2nd largest event of the year. It's the first time you are exposed and your work as a designer in FWSD and you get to meet press, bloggers, fashion fans, and potential customers.
These events are meant to get you out in front of customers and promote your brand. It's important that people have some relationship with you before the runway shows.
Then we get to the main runway week and your collection to debut. It's a thrilling time and everyone is so excited to see your never-seen-before collection. Remember we are a traditional fashion week recognized by the industry, so this is a BIG DEAL.


Testimonials from some of your colleagues on their experiences as a designer in FWSD:
Michelle Bui of CarouBelle
"Working with Allison has been an exponentially growing experience. I first came to FWSD knowing I wanted to do wearable technology but didn't have a clear direction. I had no brand, no presence, and no idea what I was getting myself into but she helped pave the way for my imagination to grow. One of the things I admire about Allison is that she didn't tell me what to do, instead she gave me ideas and suggestions that enabled me to foster my creativity and my presence."
Since working with her and FWSD I've learned how to communicate with varying audiences such as buyers and press. I've also had many opportunities to network which resulted in some of the connections I have now. In fact, I am currently creating a custom piece for a client I met through a FWSD event. I've also connected with many of the models from FWSD and am working with them to create a grand production to showcase my work. If you have a vision, you can trust that Allison will push you to where not even the sky can be your limit."
Kristine Rodriguez of Responsive Textiles
"Fashion Week San Diego has been a dream come true for me and my brand. I've been a designer in FWSD for the last two years and keep coming back. It is such a supportive environment that assists emerging designers, like myself, get a footing in this vast and often daunting industry. The networking and press, in addition to the focused workshops, have been invaluable in getting RESPONSIVE TEXTILES off the ground and established in San Diego. When I first met with Allison not even two years ago, RESPONSIVE TEXTILES was only a few drawings, swatches and my vision. Since its debut on the FWSD runway, my vision has become my brand and my full-time job. RSPNSV TXTLS now has two collections under its belt, and it continues to grow and meet new opportunities. I am very thankful to Allison for taking a chance on me, a knitter with a dream. It is rare to find people in this industry that care to help emerging talent navigate their way to success, and I am grateful to have found Fashion Week San Diego, which specializes in just that. "
Nikki Tsikounas of Nikki Marie Apparel
"I would say the biggest things that have happened for me being in FWSD so far is my alterations business is growing and more of my pieces have gotten into boutiques for trunk shows or on consignment. It is amazing how customers believe in you so much that they think I'm going to become a big designer and want to work with me before that happens (now that really builds confidence). By interacting more with customers and networking, I have learned to become more confident and assertive with my designs. If you don't love your designs, then it will show and clients won't feel excited about it. Also, I now have a connection with Allison, the FWSD team, designers, and models that is very important to keep in this tough business. I can't wait for the fashion week and to gain even more connections and friends! Who knows what will happen. I am very happy that I became a part of the San Diego Fashion Week. "
Scott Richheimer of Scott Rich
"This has been an incredible year for me in so many ways. As an artist, a designer, and start-up business because of FWSD I have been able to see my vision and dream come to life for the first time. Spring Showcase at Harrah's was a great venue to host the designers and preview our collections. Being able to show my preview collection and talk about my brand with actual customers who were seeing it for the first time, put me in a mock retail environment which I really enjoyed. I thought that was a great way to introduce my brand to the general public and to get a reaction from people. That experience also helped me see who my customers are and who they will be in the future.
Having the opportunity to show a preview collection at the W Hotel in April was an incredible way to launch and to have my first fashion show of my designs. It was above and beyond my expectations and such a great experience. That was just a peek of the press and attention that was about to come my way by being a part of FWSD.
The feature and cover of California Apparel News was a huge surprise when I opened my weekly e-mail the following week! They did a feature article about my show and put my look on the cover. FWSD then featured another one of my looks in The La Jolla Light Newspaper and Ranch & Coast Magazine to announce the upcoming shows in La Jolla.
Seeing one of my looks on the morning CW6 and Fox5 News shows early in the year were two other amazing opportunities that FWSD provided to help me launch and show my first looks. Fox 5 showed The Zoe Report picture and talked about my look and it being featured in the New York Times Fashion Magazine. Following its post to Instagram, it got over 6,800 likes.
Allison set up my first buyer's meeting and an opportunity to have my collection purchased and sold in a retail location was the most exciting experience, I think this year, thus far! It was incredible to have all 13 of my pieces picked up by a buyer in my first meeting all because of FWSD.
Thank you for believing in my brand I am beyond excited and thrilled that all this is happening before my actual debut in October! Thank you for all of your help and support this year."
Gwen Bates of GFASH
Fashion Week San Diego has been such a positive and successful experience for myself personally and my business. I have experienced personal and professional growth while propelling my business dramatically ahead in a short amount of time. I have attended and participated in exclusive events within prestigious locations and have established a credible network channel. I am continuing to learn the process of preparing for a large event and the impact visibility has on a brand while, taking invaluable information during FAB authority sessions.
From being able to take part in designing for a couple of news anchors attending the Emmy's, to having my product being carried at Harrah's Resort Southern California, Fashion Week San Diego has afforded me the opportunity and platform to be successful and reach the right audience. The experiences and activities affiliated with Fashion Week San Diego, out way the minimal investment. Any business will greatly benefit from anything Fashion Week San Diego has to offer.
Accomplishments– Press in La Jolla Village News/Fashion Files, Exposure on Fox 5, ABC, NBC, Product being carried at Harrah's Resort Southern California on 9/12, White Rainbow Project Designer Contest for charity, Requested to be a vendor at the Emmy Awards and American Music Awards
My Appreciation: I want to give a big thanks to Director Allison Andrews, who is a savvy businesswoman and an eloquent communicator, Assistant Director Samantha Dewarf who is amazingly calm and entertains all my silly requests, and the interns for being awesome! You guys are the best! Thanks for letting me work with you!
Fatsani Dogani of TaSanni
This year has been an awesome year for our business and brand. We are new to the designing world and when we initially launched our website we had no idea what driving traffic and sales would entail. Then came Fashion Week San Diego, we filled in the application form, got invited to the FWSD offices for the initial meeting, and got sold on the whole FWSD concept. It is so different from other fashion weeks in that FWSD has events throughout the year that benefit the designers. FWSD focuses on helping designers develop their brands through multiple opportunities such as press and learning sessions.
The Director of FWSD, Allison Andrews provides the designers with workshops through her not-for-profit company called Fab Authority which aims to assist artistic entrepreneurs to learn about the business side of the industry. Working with Allison and her team has been a great experience mainly because Allison is so passionate about her vision and it shows through in all that she does. You just have to watch her speak at any of the events that happen throughout the year to truly appreciate what she brings to the table. The success of the designers is very important to her and she has a wealth of knowledge that we have been able to tap into during this whole journey. Overall, Allison is very professional and a great mentor and she has a great team working with her.
Participating in FWSD was probably the best business decision our company has made. From participating at the spring showcase in March to our own mini-event at The Patio on Goldfinch to the final runway shows in La Jolla, we have been impressed with the outcomes of each of these events. Our brand has become visible to the point that we placed 2nd for the Top Designer Award which resulted in an opportunity to have a retail space at La Plaza La Jolla right on Girard Avenue, the 'Rodeo Drive of San Diego'. None of these opportunities would have been possible without our participation in FWSD. If there are any emerging designers out there that are considering a platform to help grow your brand we encourage you to consider FWSD you will not regret it.
Marcie Bain of B.JASH.I
"My favorite part of FWSD is everything, from the moment we kick off with the Spring Showcase to wrapping it up at the trunk show! FWSD has definitely set high standards that have not been met by any other show that I have attended so far. It is a production that is very organized and provides many events throughout the year for emerging designers to be showcased, highlighted, and recognized. I think it is up to all of us designers to do our part but FWSD definitely lays the groundwork out for each of us to do our best."
RHCREATION
"It is such an honor to be a past winner and participant of FWSD 10 year anniversary. FWSD has given RHCREATION the opportunity to show the world what it really is. Never could I imagine doing it on my own with all the exposure I've received thus far.
Working in the fashion and garment industry for almost 30 years, FWSD has brought to life my own brand, RHCREATION to where it is now. Yes, I have more to do and give plus this collection is by far one of the best yet, 3rd time is a charm!
The dedication and passion I've put into this collection is equivalent to the hard work I've seen and experienced along with the opportunities FWSD has given to myself & all the emerging designers."
Download your Fashion Week San Diego Designer Application below or email INFO@FASHIONWEEKSD.COM for an application.
Save