August 10, 2016
Many joined us Wednesday night to experience trending fashion capitals of the world through exquisite cuisine and cocktails. This exclusive and intimate event was held at the FABulous Cusp at Hotel La Jolla with high hopes of raising $1,000 to benefit our sister company, FAB Authority who supports emerging creative business entrepreneurs. Each attendee got to sit at the chef's table and enjoy a 6 course dinner prepared by Chef Ingrid Funes (full menu below) that explored current fashion capitals including some of the most famous like Barcelona, Miami, Florence and Tokyo! Each entree was paired with a unique, craft cocktail (full list below), which were prepared by Food & Beverage Manager, Demian Carpenter.
Hotel La Jolla ensured each attendee of  this sold out event experienced it on a different level! From the table setting to the garnish on each meal to the mesmerizing view, each attendee enjoyed a night full of food, fun and all for a good cause!
At the end of the night, Founder of Fashion Week San Diego and Executive Director of FAB Authority Allison Andrews, announced the company had reached their goal of raising $1,000! She also noted that when she asked each individual what their favorite course/cocktail was, "everyone said something different!" This goes to show how each course and cocktail was individually crafted to satisfy different types of tastebuds!
If you weren't able to attend the event, here is an awesome recap video made by FWSD's very own fashion reporter Dani Novoa.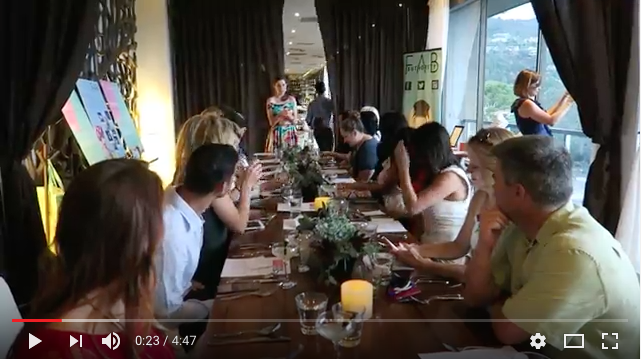 To highlight some of our favorite moments of the night, here are a few photos. (Click here to see the full album.)
Culinary Couture 6-course Menu: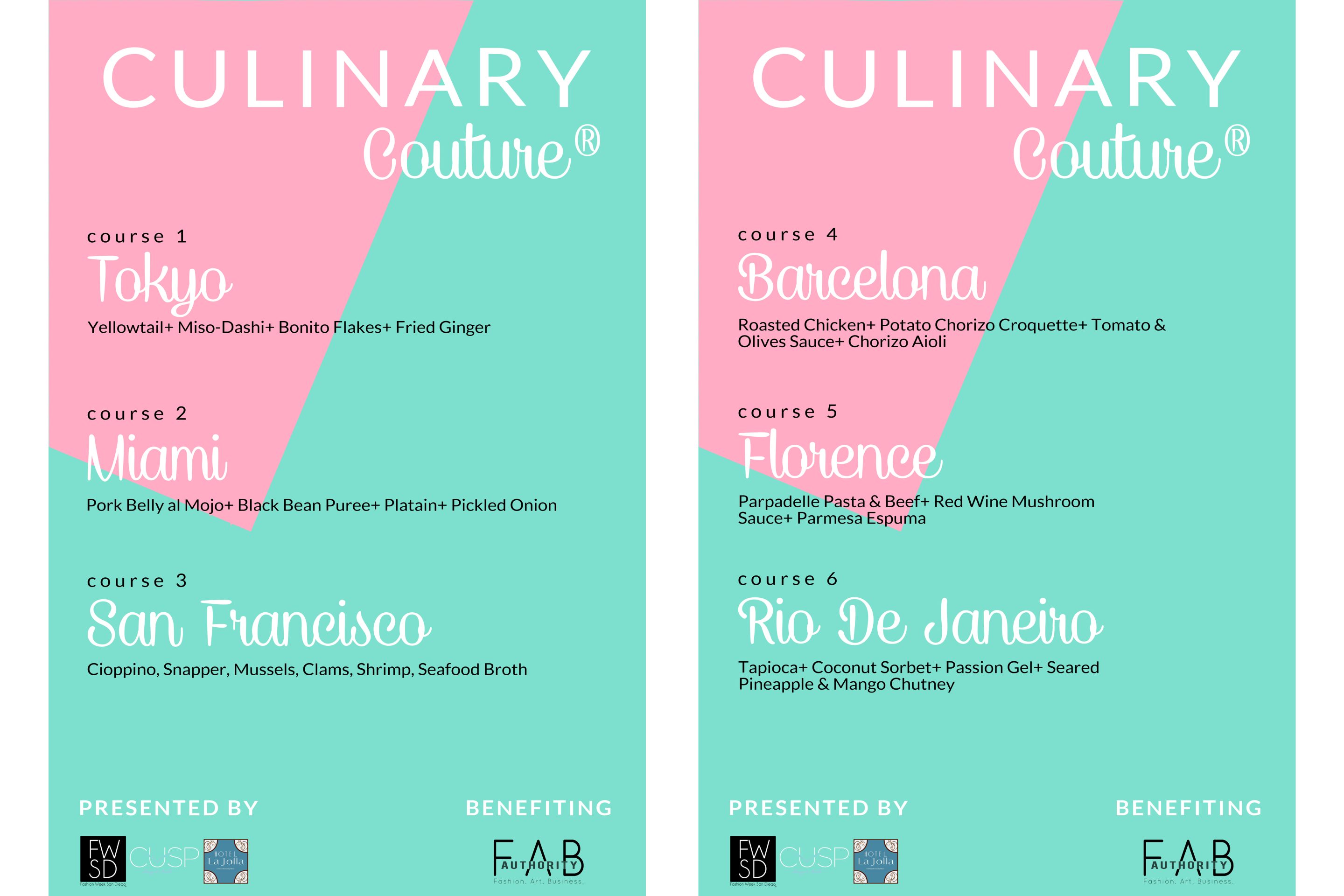 Cocktail Pairings:
Tokyo (paired to the Yellowtail)  Oishi – A gingered martini featuring bison grass vodka, sake, housemade ginger syrup, a hint of mint, and fresh citrus

Miami (paired to the Pork Belly) Dream Tea-ni – A martini boasting the flavors of the naturally caffeinated and nourishing leaves of the celebrated South American rainforest Holly tree. Barrel aged rum, housemade Yerba Mate syrup and fresh lime.

San Francisco (paired with Cioppino) To Tommy- My take on a recipe that is credited to, and made famous by San Franciscan restaurateur Julio Bermejo. Reposado Tequila, Housemade Agave syrup, fresh lime, and herbs.

Barcelona (paired with Roasted Chicken) The Resolution- While most people think of Sangria as the drink of choice in Spain, the simple Gin and Tonic is the most popular drink in Barcelona. This is my take on the drink,  that has become so popular in the plethora of Gin bars that have popped up in Barcelona. Bols Genever, Aloe Vera liqueur, cucumber, fresh lemon, agave, and mint.

Florence (paired with Parpadelle and Beef) The Soprano- Bourbon Barrel aged Scotch, amaretto, peach infused meritage red wine.

Rio De Janeiro (paired with Tapioca) Obrigado – A dessert cocktail that mirrors the flavor profiles of Chef Ingrid's dessert. It features Cachaca, fresh pineapple and mango chutney.