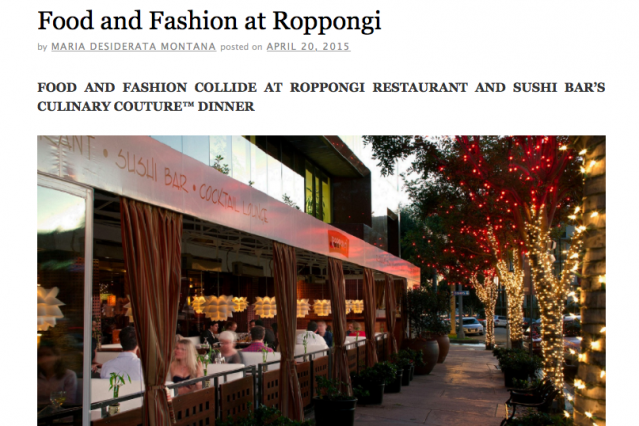 The stylish and sophisticated Roppongi Restaurant & Sushi Bar, located in the heart of La Jolla, Ca., will combine food and fashion at the 2nd annual signature event Culinary Couture Dinner as part of Fashion Week San Diego (FWSD). The evening will begin at 7 p.m. on Wednesday, May 6th. Priced at $50 per person, Executive Chef Alfie Szeprethy will create a five-course meal inspired by five high fashion capitals, with the option to include Svedka cocktail pairings for an additional $20. Throughout the meal, FWSD founder and director, Allison Andrews, will detail how the respective cities including Mexico City, Milan, Mumbai, Madrid and San Diego have become so Haute in the Fashion Industry!
DATE: May 6th, 2015
TIME: 6:00 pm
WHERE: Roppongi – 875 Prospect, La Jolla, CA 92037
PRICE: $50+tax for the 5 course meal. $20 optional Beverage pairing for each course.
RSVP: Please call 858.551.5252 or email at mgr@roppongiusa.com to make a reservation.
Read more about it here!
Tags:
Allison Andrews
,
annual event
,
couture
,
Culinary
,
culture
,
fashion
,
fashion industry
,
fashion week san diego
,
food
,
food meets fashion
,
FWSD15
,
La Jolla
,
madrid
,
mexico city
,
milan
,
mumbai
,
Roppongi
,
san diego
,
style