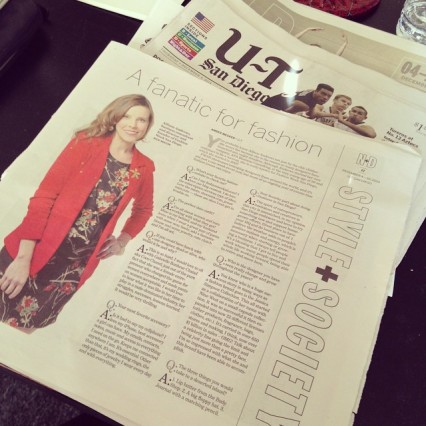 December 8,  2015 FWSD Founder & Director featured in UT San Diego
A Fanatic for Fashion– the title say's it all.
Fashion Week San Diego's very own Allison Andrews recently sat down for an interview with the UT San Diego's Amber Mesker.
Ms. Andrews gives the UT San Diego readers a peak into the fashion industry and her own experiences during her interview. Touching on topics such as her favorite accessories, the perfect date outfit and even essential items she would bring if stranded on an island this interview is a must read!FWSD Founder & Director featured in UT San Diego
"Q: If you could have lunch with one designer, dead or alive, who would it be and why?
A: This is so hard. I would love to sit with Gabrielle Bonheur Chanel aka Coco Chanel, just out of the pure fact that she was a female entrepreneur who changed the game for women everywhere and made pants on women acceptable. I would love to hear what it was like in her time to play in a male-dominated industry, her struggles, successes, lessons learned. It would be very thrilling."
Read more of Ms. Andrew's interview here!
Tags:
accesory
,
Allison Andrews
,
Amber Mesker
,
apa business consulting
,
apa consulting
,
buisness
,
Business
,
change
,
consulting
,
designer
,
director
,
Essential items
,
fashion
,
fashion industry
,
Fashion Journalist
,
fashion news
,
Fashion Report
,
fashion topics
,
fashion week
,
fashion week san diego
,
fashionista
,
Founder
,
fwsd
,
growth
,
Interview
,
news
,
Publications
,
san diego
,
san diego news
,
san diego style
,
UT-San Diego