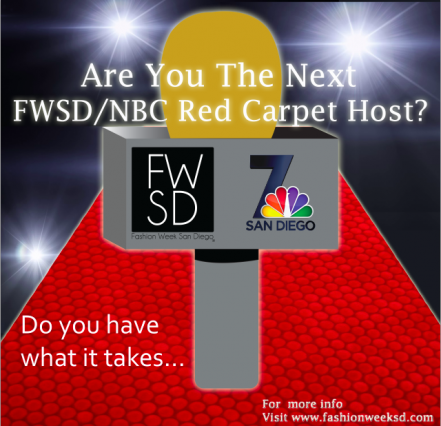 Fashion Week San Diego Fashion Correspondent Application
Fashion Week San Diego is searching for the next 2015 Fashion Correspondent. We are looking for a fabulous, fashion obsessed individual with excellent writing skills and a vibrant personality on and off camera. The winner will receive an opportunity to report on FWSD's Fall Runway Shows, which will be held Oct. 1 through Oct. 4, 2015, in La Jolla, Calif.  In addition to attending the shows, conducting red carpet interviews and covering daily events on NBC San Diego's 'On the Scene' report, the fashion correspondent will provide viewers a runway recap as an in-studio guest on NBC San Diego this Fall.  
Requirements
• San Diego Based
• 21 years of age or older
• Proficient Writer (English)
• Extensive understanding of Social Media
• Fashion Focused
Application Materials Applicants will watch last year's FWSD Fall 2014 runway show and critique the event in 500 words or less. Applicants will be considered based off of their submitted critique, writing samples, blog presence, and overall persona. To apply, please submit:
• Resume
• Critique of FWSD 2014 Fall Runway shows in 500 words or less. You can find the link HERE. The write-up should focus on the fashion, production, and overall event itself.
• Link to your blog (if applicable)
• Any additional writing samples you feel would be valuable for consideration
• Photo (not required but may be attached to enhance application)
• Anything else you feel will make you stand out and prove why YOU should be the next FWSD Fashion Correspondent!
Please send completed application to info@fashionweeksd.com by FRIDAY, AUGUST 28th 2015.
Best of luck, we can't wait to have you reporting on the runway!
Tags:
Bloggers
,
correspondent
,
fashion
,
fashion show
,
fashion week
,
fashion week san diego
,
fwsd
,
FWSD15
,
host
,
journalism
,
model
,
NBC
,
nbc san diego
,
nbc7
,
Red carpet
,
reporter
,
runway
,
san diego
,
social media
,
style