FWSD is now calling for 2016 Interns!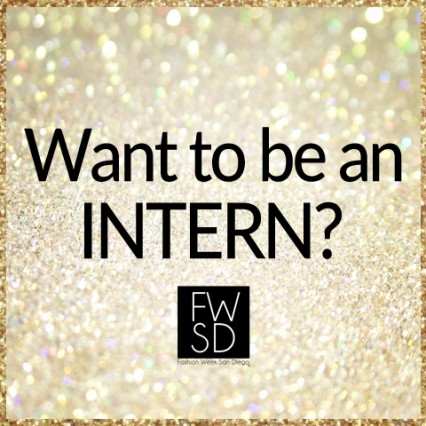 All FWSD16 Interns have been accepted at this time, and applications are now closed. Please see details below on how to apply to become an FWSD16 Volunteer.
Do you have a passion for fashion, and a knack for business?
Apply now to be one of FWSD's 2016 Interns!!

PROGRAM DETAILS…
-Internship Start Date: March 2016
-Roughly an 8 month program (March-1st week in October)
-Interns will work both in office & on location at events
-School Credit available if applicable through your college/university
-This internship is unpaid

WHAT YOU WILL DO…
Interns will help with admin support, research, blogging, social media, marketing campaigns, event production, event planning,  press campaigns, and more! Some knowledge of Photoshop, InDesign, Illustrator, Excel, Word, Power Point, WordPress, and Social Media are preferred, but not required.
HOW TO APPLY
Please submit your resume to Samantha@fashionweeksd.com to be considered for an interview!
Once resume is reviewed, you will be emailed with further instruction.
NOT ABLE TO COMMIT FOR 8 MONTHS??
FWSD is always accepting Volunteer Applications! FWSD Volunteers are needed for our annual Spring Showcase in March, and for our big October Runway Shows. If interested in volunteering for FWSD16, please send your resume to info@fashionweeksd.com.