Ten Reasons to Attend Fashion Week San Diego's 10-Year Anniversary Shows
By: Allison Andrews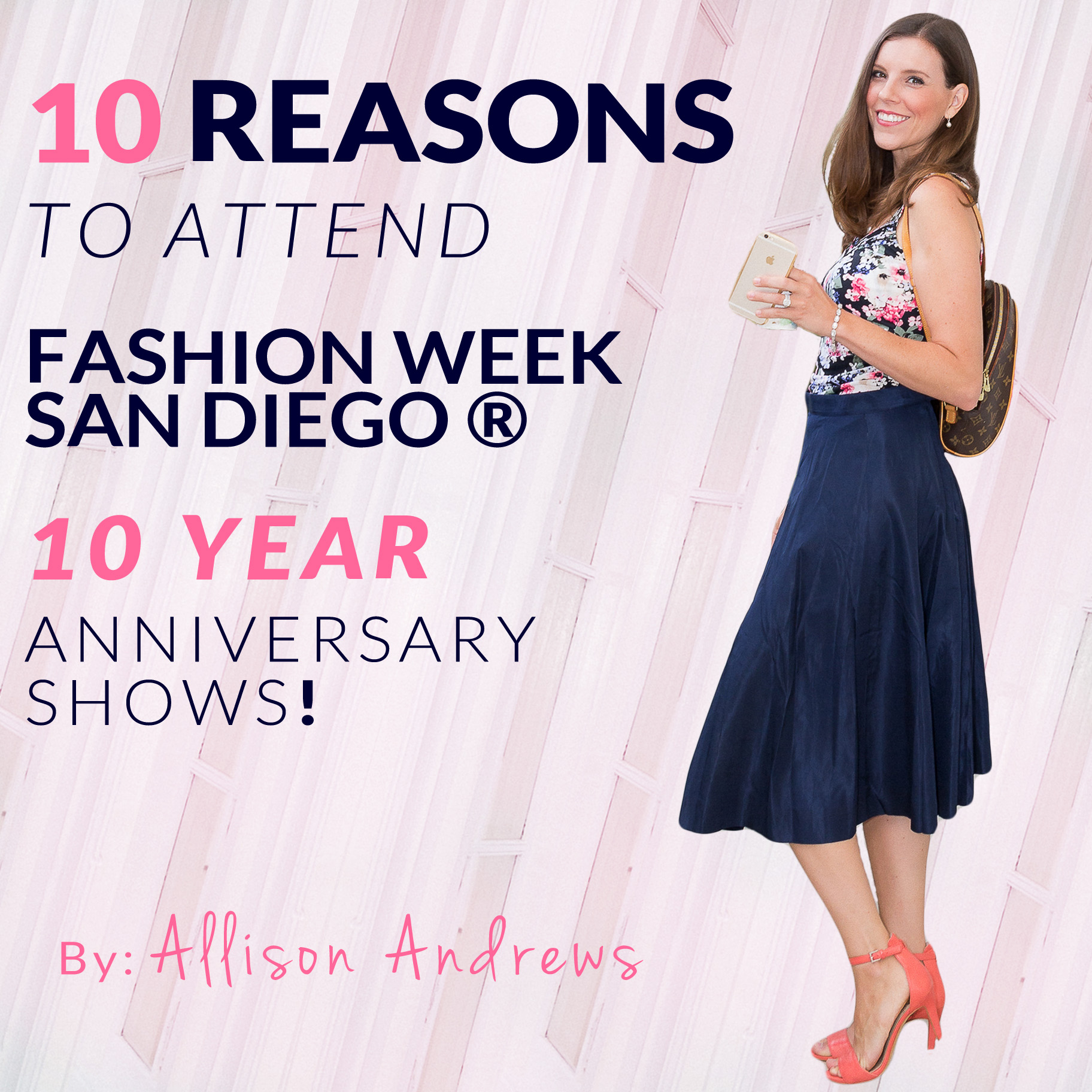 It's hard to believe it's been 10 years since we launched Fashion Week San Diego. Since its early days as a micro-fashion event atop a hotel rooftop, to annual sold-out shows and events across the city, it's been an honor to share my passion for style with this fine city and help aspiring designers bring their dreams to life and launch careers. It's also hard to capture my gratitude for this city's embrace of Fashion Week San Diego and for the international talent we've been able to showcase—designers, models, hair and makeup artists and more—in a few words. I'm amazed at how many partners have supported us throughout the years and the city's support.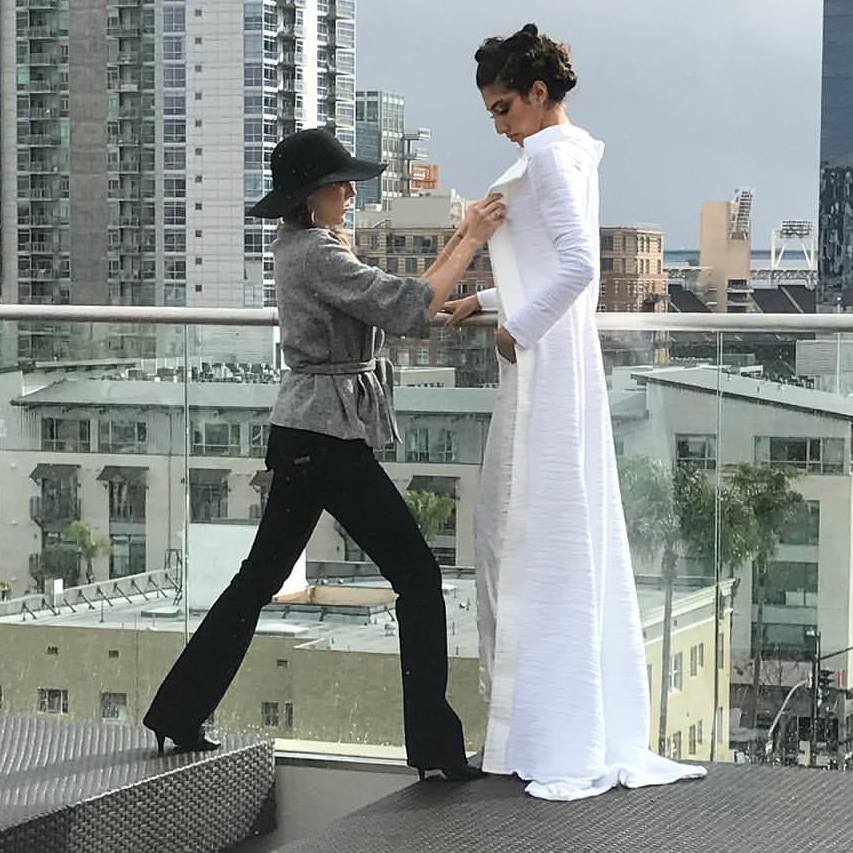 We've been recognized by the local government and were honored with four proclamations from City, County and Mayor about Fashion Week San Diego being the LARGEST and most influential/ impactful Fashion Event in San Diego. And, we've been able to launch a non-profile that supports entrepreneurs. It's been quite a decade!
As we gear up for our 10th anniversary, I'd love to share what I'm looking forward to the most with hopes that you join us this year for the celebration. From gender-binary brands and designer doggie apparel, to supporting local business owners and cancer survivors, this year's runway show has it all, packed into an exciting and bigger than ever week. While it was hard to pick just ten, below are my reasons (of many, many more) not to miss FWSD's 10-year Anniversary:

Party Like it's 2007. We're throwing it back to the very first FWSD Fall Runway Show 10 years ago with the original location and cost. This year, we are hosting the show at the fan favorite runway venue, Broadway Pier, and bringing back 2007 pass prices, starting at $10 a day. [ PASSES & INFO HERE ]
Local Support. San Diego is a hotbed for entrepreneurs and what better way to support them than by enjoying a fashion show near the coast? By simply attending FWSD's Fall Runway Show, you will help talented local entrepreneurs and businesses, as well as give back to the creative community with partial proceeds going to FAB Authority – a resource that helps assist emerging fashion and art businesses.
Fluid Fashion. This year, we have 21 designer brands—both local and international—converging in San Diego for your viewing pleasure. Two of the designers are gender-binary brands, bending the rigid gender roles of society by offering clothes that can be worn by men and women. [ CHECK OUT DESIGNERS HERE ]
Pup Couture (and Pop Culture). This year, we are bringing back a fan favorite brand, the Stylish Bisou, who will showcase her impressive pup couture line. What's more entertaining than watching dogs walk the runway in chic designer doggie apparel?
Always On Trend. Get ahead of the curve and discover emerging trends not only in fashion, but also in hair and makeup. Join the most fashionable party of the year and be the first to see all the upcoming trends that can easily be worn off the runway for a flawless and original look.
Shop the Runway. In addition to learning about the trends—shop them! Attendees can shop the FWSD 2017 designers at the Sunday trunk show, purchasing looks straight off the runway.
Style & the City. FWSD is taking over all of San Diego this year with one night at The Lot in La Jolla, three nights downtown at three different venues (Andaz, Broadway Pier, and Florent), and one day in Coronado at the famed Hotel del Coronado. Join us and explore the amazing place we love to call home.
Circus (yes, circus!). Not only will the Fall Runway Shows feature fashion, but also live circus performers. Clown around with us Thursday night at the 'Art & Beauty Behind Fashion' event at Andaz to experience a fashion show like never.
Stand up to Cancer. Unfortunately, cancer touches each one of us. FWSD will have a special tribute to our Model Coach, Chelsea Casey who passes away due to stage four lung cancer this year.  From now on our Top Model award will be renamed to the Chelsea Casey Top Model award. Highlight some cancer survivors on the runway wearing designer Hulabelle Swimwear, who has created a brand specifically for those who have undergone the rigorous surgeries most experience during the Breast Cancer battle. Care for cancer by joining us at FWSD to support the cause.
Meet and Greet. FWSD brings together people from all backgrounds. Meet some of the most influential people in San Diego and in fashion, as well as celebrities. You never know where the connections you make at FWSD may lead!
FWSD 2017 is going to be one for the books and you will NOT want to miss it! We have five packed nights of fashion inspired events with surprises each night. Come out and enjoy excellent entertainment while supporting great causes. We hope you can join us. Feel free to learn more on fashionweeksd.com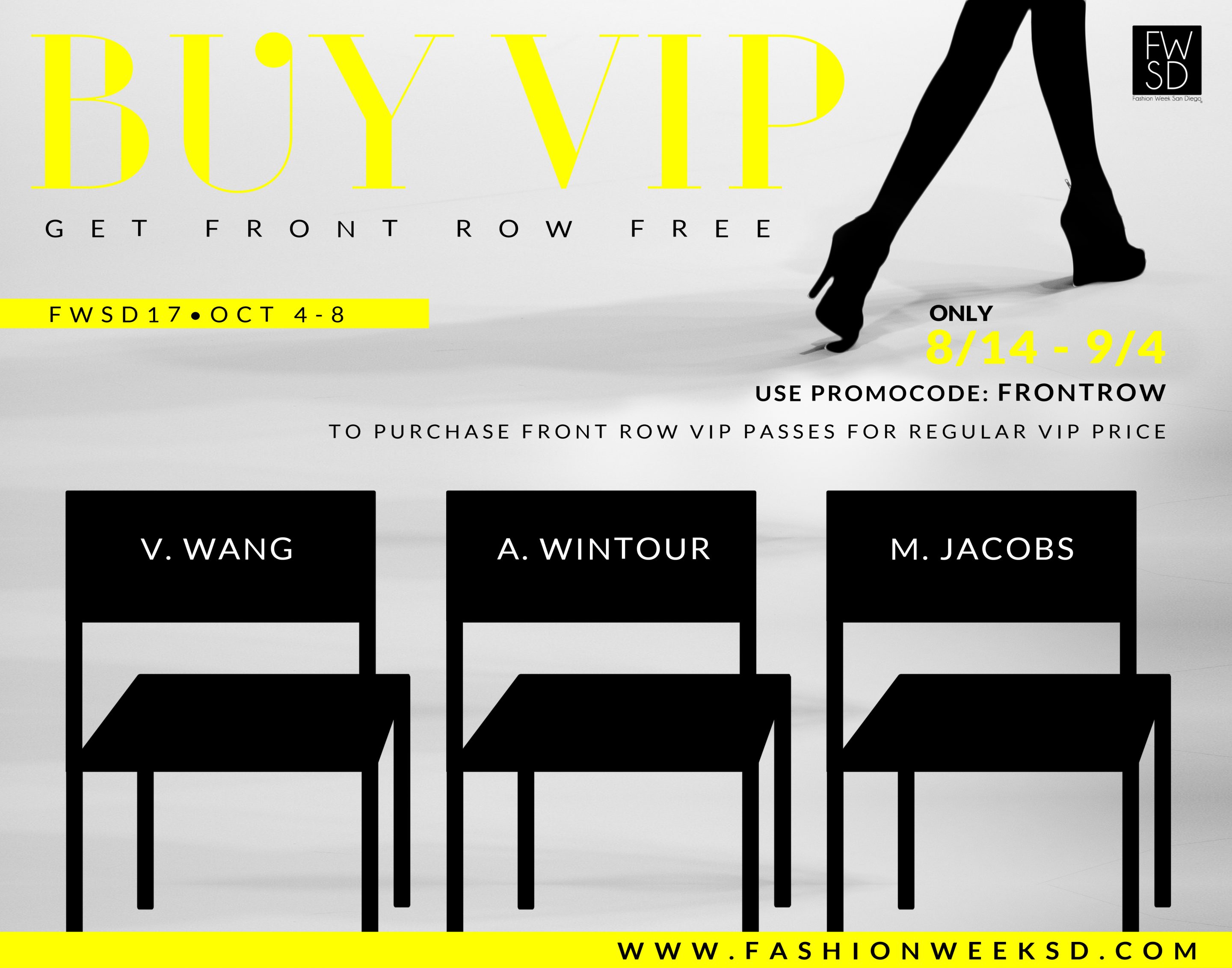 FWSD VIP Discount:
August 14th – September 4th you can purchase FWSD17 Front Row VIP Passes (usually $250) for the same price as a regular VIP Pass, ONLY $100! Simply use promo code: FRONTROW when you checkout.
*This is a one time offer and will expire @ midnight on 9/04.
SaveSave