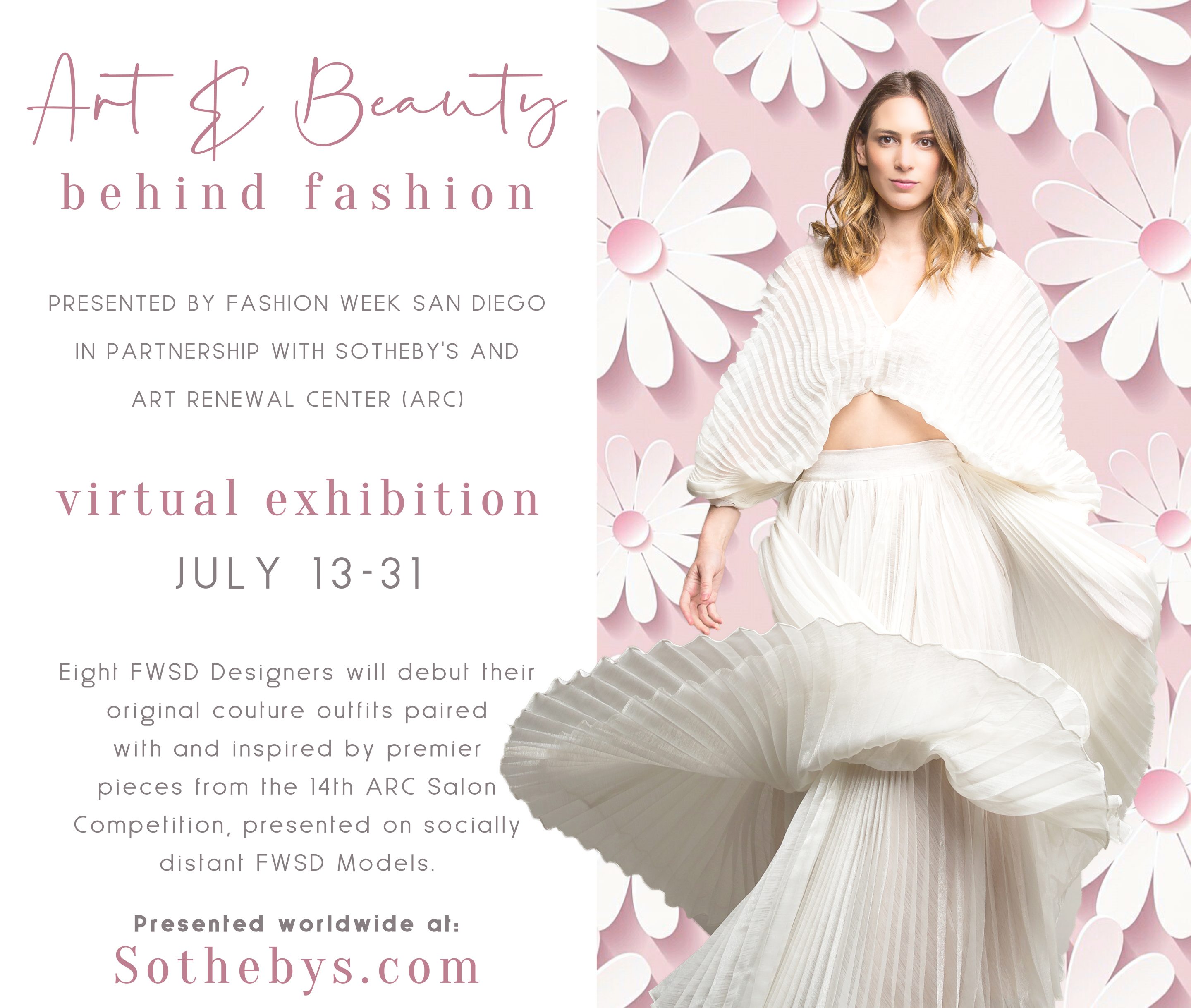 ART & BEAUTY BEHIND FASHION
Fashion Week San Diego's "Art and Beauty Behind Fashion," is going virtual with a first-of-its-kind experience. In partnership with Sotheby's and Art Renewal Center (ARC), the online salon exhibition will feature a digital catalog of the 99 ARC Salon exhibiting works, a virtual walkthrough space of the show, videos, and exclusive interviews with the artists and executives from FWSD and ARC. The virtual exhibition will be presented worldwide at Sothebys.com from July 13 to July 31, 2020, and viewers at home may vote for the top fashion designer during that time.
In "The Art and Beauty Behind Fashion," eight FWSD designers will debut their original couture outfits paired with and inspired by premier pieces from the 14th ARC Salon Competition, presented on socially distant models. The distinguished ARC Salon Competition is the largest in the world for representational art, receiving over 4,300 entries from 73 countries during the last cycle and spanning six continents. The eight winning paintings, paired with FWSD designers' original looks, allows the artists to promote Contemporary Realism to a wider audience and expose the Representational Art Movement to top fashion designers around the world. In addition, this will allow FWSD designers to gain exposure to top art collectors and influencers around the world, creating an ideal partnership.
"We are beyond excited to be part of this groundbreaking virtual exhibition," said Gwen Bates, director of FWSD. "Although we would have loved to celebrate our designers' spectacular work together in New York City as planned, the opportunity to mount a virtual exhibition on Sotheby's website will provide heightened exposure for our designers to showcase their work on a global scale. Our main goal when planning FWSD's 2020 programming was to ensure our efforts were designer-focused, and this distinguished exhibition gives our emerging designers a much larger platform than I could have ever dreamed of."
The digital exhibition will capture the stories behind each pairing, featuring footage from both the fashion designer and artist on their creative process from conception to final presentation. The winning designer and painting pairing of the virtual show will be announced at FWSD's signature runway event this October in San Diego, where each of the eight modern looks will be presented on live models.
"So much work goes into creating an exhibition like this, not only on the part of the Art Renewal Center, but the work done by all of the artists who spent months or years creating their masterpieces," said Kara Lysandra Ross, co-chair, and COO of ARC. "To be able to combine a fine art exhibition with a fashion event like this, where an entirely separate group of artists working in a different artform can come together in cooperation, brings the experience to a whole different level. I feel very grateful to be able to be a part of this timeless expression of our shared humanity."
This prestigious and one-of-a-kind event is part of FWSD 2020's pivoting efforts to amend shelter-in-place orders while continuing to execute premier, fashion-forward events and serve as a launchpad for emerging designers. FWSD recently launched an innovative series of virtual runway shows, executing the first show in May with 2020 designer Vaughnberry. The monthly series showcases two models displaying eight of the designer's looks at venue Luce Loft, all shot at a safe distance. The shows can be found on IGTV, FWSD YouTube channel, and the FWSD website. Additionally, more than a dozen of FWSD designers, past and present, have devoted their quarantine time to making masks and filming DIY tutorials, donating more than 600 masks to local San Diego hospitals.
To learn more about Fashion Week San Diego, visit the site here or connect on Facebook @FashionWeekSD, Instagram @fashionweeksd, or Twitter @fashionweeksd.
About Fashion Week San Diego
Fashion Week San Diego® (FWSD) is an annual bi-national event, comprised of a Fall Runway Show, and a series of exclusive events throughout San Diego County and New York. Launched by San Diego fashion Entrepreneur Allison Andrews in the fall of 2008 and operated by GFASH Designer Gwen Bates, FWSD is designed to grow the developing local retail industry and serve as a launching pad for emerging designers. FWSD breaks the traditional industry molds by connecting consumers directly with designers through annual events, social media, and sales opportunities. For more information, visit www.fashionweeksd.com.
About Sotheby's
Sotheby's has been uniting collectors with world-class works of art since 1744. Sotheby's became the first international auction house when it expanded from London to New York in 1955, the first to conduct sales in Hong Kong in 1973, India in 1992, and France in 2001, and the first international fine art auction house in China in 2012. Today, Sotheby's has a global network of 80 offices in 40 countries and presents auctions in 10 different salesrooms, including New York, London, Hong Kong, and Paris. Sotheby's BidNow program also allows visitors to view all auctions live online and place bids from anywhere in the world. Sotheby's offers collectors the resources of Sotheby's Financial Services, the world's only full-service art financing company, as well as the collection, artist, estate & foundation advisory services of its subsidiary, Art Agency, Partners. Sotheby's presents private sale opportunities in more than 70 categories, including S|2, the gallery arm of Sotheby's Global Fine Art Division, and three retail businesses: Sotheby's Wine , Sotheby's Diamonds , and Sotheby's Home , the online marketplace for interior design. For more information, visit www.sothebys.com.
About Art Renewal Center
Leading the revival of realism in the visual arts, the Art Renewal Center (ARC), a 501(c)(3), non-profit, educational foundation, hosts the largest online museum dedicated to representational art and includes works by the old masters, 19th century, and 21st Century Artists as well as articles, letters and other online resources. The ARC is the foremost and only vetting service for representational art schools ensuring that the teaching curricula and quality of teacher and student work meet their strict standards to become ARC Approved™. The ARC also runs the ARC Salon Competition, which is the largest and most prestigious competition in the world for realist artists painting, sculpting, and drawing today with eleven categories and thousands of works competing, culminating in a traveling live exhibition of many of the winning works. The ARC works with other ARC Allied Organizations™, artist groups, museums, and publications to become a central news hub for the 21st Century Representational Art Movement. For more information, visit www.artrenewal.org.