Fashion Week San Diego's very first Wearables Workshop co-hosted by FAB Authority.org, IMIT and Qualcomm at the Horton Grand Theatre on November 16th was a great success!
Speakers & Panelists in both the Fashion and Technology Industries shared their viewpoints on Wearable Technology and products that are making a scene in the Wearables world.
Speakers included: Jack Young from Qualcomm, Theodora Koullias from Jon Lou, Daniel Obodovski Author, The Silent Intelligence 
Panelists included: Allison Andrews from  APA Business Consulting & Fashion Week San Diego, Kyle Hjelmeseth from Wearable World, Maria Von Losch from Savvynista.com, Vanessa Bali from Vanessa Balli: Outfit of the Day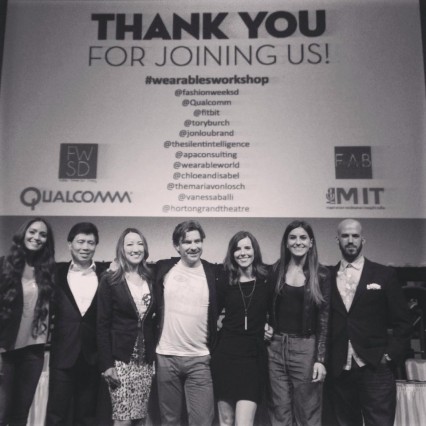 Didn't get a chance to attend? Want to watch the event highlights? The Wearables Workshop event recap videos with highlights from both the speaker and panelist sections are now available on the FWSD Youtube page.
Watch our Speakers highlights here: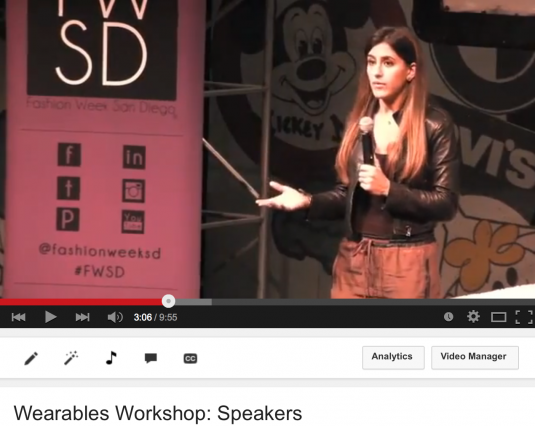 Watch our Panelists highlights here: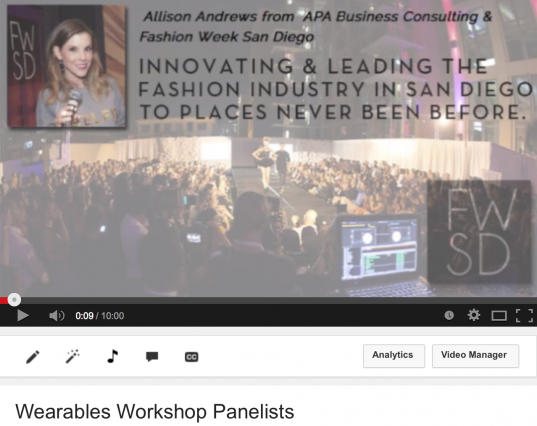 For more fun Fashion Week San Diego events be sure to check our Events Page.
Tags:
advanced
,
Allison Andrews
,
apa business consulting
,
APA Consutling
,
author
,
California
,
change
,
Daniel Obodovski
,
emerging style
,
fashion
,
Fashion Blog
,
fashion industry
,
fashion news
,
fashion week
,
fashionista
,
fwsd
,
gaslamp
,
Horton Grand
,
Horton Grand Hotel
,
Horton Grand Theatre
,
innovation
,
Jack Young
,
Jon Lou
,
Jon Lou Brand
,
Kyle Hjelmeseth
,
Maria Von Losch
,
movers
,
Panelists
,
progress
,
Qualcomm
,
qualcomm life fud
,
san diego
,
San Diego City
,
shakers
,
Speakers
,
style
,
style blogger
,
tech industry
,
techies
,
technology
,
The Silent Intelligence
,
Theodora Koullias
,
trends
,
trendy
,
Vanessa Balli
,
video
,
Vlog
,
Wearable
,
wearable fashion
,
Wearable Workshop
,
wearables workshop
,
Youtube