space
24 hand-picked designers will create and showcase their never-before-seen 2016 Spring/Summer collections at FWSD's Fall Runway Shows, Sept. 28 through Oct. 4 in an open-air venue in La Jolla, Calif.
See which Designers live in your neighborhood!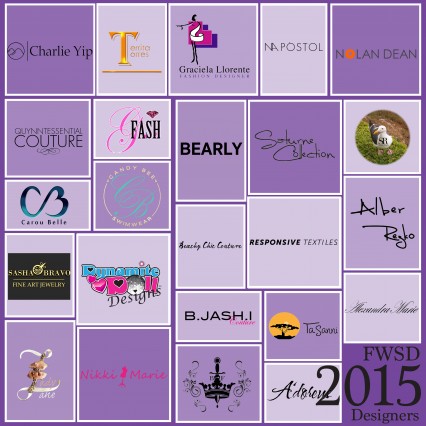 San Diego (Mira Mesa), CA
Fashion Week San Diego's 2014 Top Designer and four-year veteran A'doreus returns to the FWSD runway to showcase a collection that celebrates the full figured woman embracing diversity and size acceptance through the many facets of fashion. A'doreus, designed by Sharlene Borromeo, designs encompass romantic styles, classic silhouettes, and an eclectic mixture of textures and textiles. In December 2014 Borromeo was awarded a proclamation from the city of San Diego and recognized by the California Assembly and Senate for her "… outstanding achievements and contributions in the arts, devoted community service, and inspiration to our youth and community."
San Diego (Downtown), CA
Starting out as an apprentice at the mere age of 12, Alber hasn't stopped experimenting with diamond cutting, metals, and design to make one of a kind pieces. With years of experience fabricating for distinguished Jewelry Design Houses, he now introduces his own private namesake collection, Alber Rezko Jewelry Design. This is Alber Rezko's 2nd year with Fashion Week San Diego.
San Diego (Spring Valley), CA
Younger than most but just as talented, Alexandra Marie is a seventeen-year old fashion designer, model, and entrepreneur proving that age is just a number. Although younger than most entrepreneurs, she is continuously working to pursue her dream of becoming a big name fashion designer and having the opportunity to create the beautiful pieces that she envisions.
San Diego (Valley Center), CA
Pulling from her Native American and Danish roots, Marcie Bain channels her heritage and passion for the outdoors in her designs creating wearable art as athletic apparel and elegant eveningwear. Her elegant eveningwear launched at FWSD14, and her vintage and Native American inspired pieces will be back on the FWSD2015 Runway. The B.JASH.I label is named after Bain's four-children, Bradley Jon, Ashleah, Ishi, and Ashawnee.
San Diego (San Marcos), CA
Beachy Chic Couture creates dresses that are youthful in spirit with a casual "beachiness" influence of the So Cal lifestyle. Touches of couture bring special elegance to this new line. Bringing a touch of elegance and her design expertise to the So Cal beach style, Timmithea Leeds starting sewing for herself in grade school and later studied couture sewing from fashion designers such as Susan Khaljie and Angela Wolf.
San Diego (Downtown), CA
Bearly Proper™ is a veteran owned innovative design and manufacturing company, designing casual street-wear for the everyday dapper gentleman. Each product draws on the company's roots, both dapper and preppy, creating a unique delicate balance. Products feature a slim fit, tailored cut that is versatile and appropriate for all occasions.
San Diego (San Marcos), CA
United States Marine Corps veteran turned tattoo artist, turned couture designer, Elle Audra's fashion line is just as unique as her personal talents. Black Filigree's artistic designs are unlike anything else on the runway. Elle was inspired to open her business after many successful years as a tattooed alternative model and being immersed in the tattoo community. Elle strives to enrich the community by providing a safe, unique, and sterile environment that encourages creative expression through art and tattoos. Elle's unique materials and design esthetic creates wearable art rather than clothing.
San Diego (National City), CA
Candy Bee Swimwear is an eclectic collection of handcrafted swimsuits designed by Candy Bee Champa. The collection features a variety of swimwear: from beach fashion with functionality and spunk and sleek and sexy classic pieces to elegant and lavish premium crystal bikinis, and vivacious suits with playful prints and bold colors. Realizing swimwear design was her calling, Candy bravely quit her job of seven years after earning a Bachelor's Degree in Criminal Justice degree and a Master's Degree in Communication. She took hold of her artistic talents and produced the collection of Candy Bee Swimwear.
San Diego (Hillcrest), CA
Making her runway debut, this luxury line of jewelry founded in 2013 embodies the delicacy of art as well as elegance. After lying dormant for a couple of years to perfect itself, Carou Belle is now ready to tell a story through every wearer and observer. Past collections have been statement pieces formed by glass beads with each one being sewn together by hand making each piece unique. Riding the wave of technology and utilizing her current pursuit of an undergraduate degree in Computer Science from UCSD, designer Michelle Bui hopes to intertwine technology with her jewelry to show how it can be useful as well as aesthetically pleasing.
San Diego (La Jolla), CA
A high-end handcrafted leather brand, Charlie Yip products are targeted towards people who crave more out of life than mere existence. The designs and products that will make their debut on the FWSD15 runway, showcase the importance of finding meaning in what they do and what the products mean to the Charlie Yip brand. Starting out as wanting to create a sentimental gift for his father, Charlie Yip soon developed a brand representing the need for modern appeal and unique approach to timeless pieces.
San Diego (La Jolla), CA
This vivacious designer's purpose of her designs is to foster full self -expression and bring joy to both the wearer and the admirer. Dynamite Doll originally began as a stage name for designer, Annaiah. She was making pieces for herself when performing and then people started asking about her looks. She decided that her mission was to bring shimmer out in clothing. She will make her debut at Fashion Week San Diego 2015.
San Diego (Oceanside), CA
After years of providing custom design work for high-end cliental and attendees of events such as the Grammy Awards, weddings and jazz festivals, Gwendolyn Bates has finally decided to build a brand composed of feminine, elegant yet lustrously radiant designs. GFASH currently offers a few diverse lines of accessories for day and night looks and customizable products for those who love to be unique and stand out. Each product at GFASH contributes to the mission of "Fabulous-ity" and devotes itself to organizations with self-esteem building programs and stands behind the cause of female empowerment.
Chicago (Forest View), IL
Hailing from Guadalajara Jalisco, Mexico City, Graciela relocated to Chicago after completing her fashion design studies. Graciela has been making first communion dresses for the past 10 years and enjoys making clothes for girls as well as women. She started a business with a partner called Re-girl, a line of recycled garments turned into leg warmers, skirts, dresses & more. Now Graciela is ready to take her next step by showcasing her full women's wear collection at FWSD15.
San Diego (Mission Valley), CA 
A line of vintage inspired women's wear for real women. What makes Lady Lane's designs stand out are the unique fabrics that she sources. She combines these fabrics with vintage inspired patterns that transcend into modern day unique pieces. Lady Lane showcased her spring 2015 line on the runway of Fashion Week San Diego14, and was voted third place designer by the FWSD Audience. She will be back on the 2015 runway with her S/S 2016 women's and children's wear.
San Diego (East Village), CA
NaPóstol Couture is a haute line specializing in wedding and evening gowns that celebrates the feminine body with sensual elegance and romance. Nessa Apostol is a self-taught designer and gown couturier. She started making her own clothes, learned how to operate a sewing machine and drape at age 12.  As an adult, Nessa became a professional ballroom dancer and performed in her high fashion costumes that immediately caught attention on the competition floor and admirers began ordering. In November 2014 NaPostol Couture was launched. Within three months of being established, NaPostol Couture has been worn at the Miss Universe Pageant, reality TV star Draya Michele, Playboy model Jessica Burciaga, made its appearance at the Grammy's and currently dresses world title dancers: Stephanie Betts, Kasia Kozak and Karina Smirnoff.
San Francisco (Rohnert Park), CA
This talented designed has an exquisite eye for women's apparel full of playful spirit. Each season takes you to a world of feminine silhouettes enhanced by bold prints, colors, and textures that simply make you feel fabulous. She launched her e-commerce store in 2013 and now has expanded her business to offering custom alterations and garments. She will be making her full debut on the Fashion Week San Diego 2015 runway.
San Diego (Mira Mesa), CA
Nolan Dean is a self-taught designer with background in fine arts, photography, construction, culinary and science. He is passionate about creating beauty out of everyday experience. Using pure emotion as catalysts in the creation of his pieces, he wants the wearer to experience the joy of dressing and the exhilarating feeling of simply "being." Nolan Dean will debut his first collection at San Diego Fashion Week 2015.
Corona, CA
Designer Quynn, embraces vintage elegance with old-fashion European romance in a graceful, feminine, and eternally invigorating couture line. She sees the body as a canvas wanting to be touch with all types of colors and textures. Each piece from her collection is custom-made carefully by hand in-studio to insure a flawless creation every time. Quynn is a dedicated animal lover and donates 10 percent of proceeds to animal shelters and rescue groups.
San Diego (Balboa Park), CA
RESPONSIVE TEXTILES is San Diego-based knitwear line. Founded in 2013, the brand was inspired by the belief that clothes are our second skin, and they should be as unique and human as we are. All pieces are handmade by designer Kristine Rodriguez and sold in limited editions. RSPNSV TXTLS recently launched it's first collection at Fashion Week San Diego this past October and was awarded the second place Top Designer, as voted on by the FWSD audience. 
San Diego (Oceanside), CA
Sasha Bravo specializes in one of a kind jewelry pieces. Her love for world travel, culture, and nature in its most simple form is the foundation for her design. She describes her work as an embellishing form of wearable art, a dance between precious stones and metal, and a truly colorful representation of self expression. 
San Diego (University Heights), CA
Holding one of the most inspiring success stories, Marcelin Saturne moved to San Diego without a job or home after his honorable discharge from the United States Army. With unwavering optimism, his flourishing Saturne Collection is on its way to becoming one the premier brands in Urban Executive fashion. Saturne Collection features limited edition pieces to keep with its core principles of uniqueness and exclusivity and will make its debut on the Fashion Week San Diego 2015 runway.
San Diego (Mission Valley), CA
Treating the environment with as much care as his garments, Scott Rich uses eco-friendly, dye-sublimation printing to bring his art and photography to life through his impactful style. Don't let the details fool you, his one of a kind fashions are easy wear/easy care. All dye-sublimation fabrics are wrinkle-free & washable. Dye sublimated fabric is printed in USA & all garments are made in USA. Scott Rich is debuting his first collection for Spring 2016 on the FWSD15 runway.
Frisco, TX & San Diego, CA
TaSanni is a collaboration between two childhood friends from Africa with backgrounds in the medical and financial industries that share a passion for fashion. TaSanni designs are a modern fusion of the vibrant African print with western style. Specifically crafted with the modern woman in mind, each piece is versatile, functional and unique. TaSanni's overall mission is to put Africa on the map as a fashion hub. The entire TaSanni line is designed in the USA and manufactured in limited quantities in Southern Africa. They will debut their first collection at Fashion Week San Diego 2015.
San Diego (Mira Mesa), CA
Territa Torres Designs prides herself on producing innovative silhouettes that are functional, edgy and chic for the confident woman. The ENVY collection embodies luxury tailoring with a sexy, slim and modern silhouette. Each silhouette varies from fitted dresses and separate pieces such as pants, shorts, and tops. She incorporates prints, solids and lightweight fabrics that cling to every curve. The ENVY collection showcases a selected color palette comprised of shades of greens and natural hues to assist with creating a one of a kind distinctive look.